Invisalign® Treatment in East Brunswick, NJ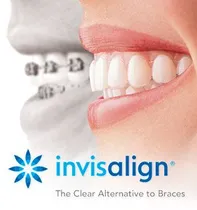 Clear aligners are a popular alternative to metal braces, and are a great, discrete way to correct minor misalignment of the teeth. A Certified Provider of Invisalign, Dr. Ahuja is proud to offer clear aligners at our East Brunswick dental office.
How Invisalign Works
Just like traditional braces, clear aligners put a small amount of pressure on the teeth to move them into place. Unlike traditional braces, they are made of a clear and completely removable plastic that you can take out during eating, brushing and flossing, or important events.
Clear aligners are made from digital molds of your teeth. A tray is made from the digital mold of your current teeth, with changes that target misalignment. Typically, you wear one aligner for one to two weeks until you advance to the next one. Each week, your aligner moves your teeth incrementally until you reach your perfect smile.
Benefits of Invisalign
Improved oral hygiene: Because Invisalign aligners are removable, it's much easier to maintain excellent oral hygiene than with traditional braces.
A discreet look: Invisalign aligners are clear, so they won't take away from your current smile while you perfect it.
More dietary choices: You can remove your Invisalign aligners while eating, so you are free to eat as you please.
Teeth grinding protection: Invisalign clear aligners function as night guards, so they can help with clenching or grinding.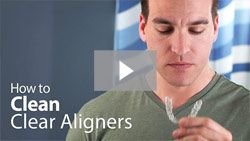 Ensuring Success with Invisalign
It's important to wear your Invisalign aligners for the majority of the day and night—at least 20 hours per day. Taking your aligners out too much or for too long will result in prolonged treatment. It's important to clean your aligners, and can do so with a brush and toothpaste, or with a denture cleaner solution. It's also important to maintain your oral hygiene, as aligners will push any food further into teeth and gum line.
Invisalign for Teens
In the past several years, two features have been added to make Invisalign a more appropriate orthodontic treatment method for teenagers. Special "eruption tabs" hold the appropriate amount of space open for molars that have not fully grown in. Invisalign for teens also comes with "compliance indicators" built into the aligner material, which fade with wear. This allows Dr. Ahuja, parents, and patients, to make sure the trays are being worn as prescribed. Treatment with Invisalign can only be successful if this is the case.

Want to learn more about Invisalign from AC Dental?
Call our East Brunswick, NJ office at (732) 254-9000 to book an appointment today.