Emergency Dental Appointments In East Brunswick, NJ
Dental emergencies can occur at any time, but at AC Dental, we're here for you when you need us. If you experience a dental emergency, Dr. Ahuja and our team will do our very best to see you as quickly as possible at our East Brunswick dental office—most often the same day! Our goal is to get you out of pain and on with your life—with a smile!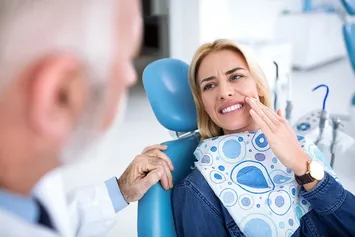 Types of Dental Emergencies
Tooth Pain
Pain is a signal that something is wrong. Any tooth pain should be taken seriously; ignoring this symptom can lead to more serious dental and medical consequences.
The pulp inside each tooth is composed of living tissue, including nerves and blood vessels. When the pulp is exposed to bacteria, whether due to deep decay, injury, or gum disease, it can become infected. Symptoms include persistent pain and sensitivity, as well as red, swollen, or tender gums.
Trauma
Dental trauma caused by a collision, a blow to the face, a sporting injury, a fall, or any other accident should be evaluated immediately. Sometimes, damage to a tooth isn't obvious, and persistent pain could mean a hairline fracture or damage below the gum line.
Chipped or Fractured Teeth
Most chipped or fractured teeth can be repaired either by reattaching the broken piece or by placing a tooth-colored filling. If a significant portion of the visible portion of the tooth is broken off, an artificial crown or "cap" may be needed to restore the tooth. Injuries in the back teeth often include fractured cusps, cracked teeth, or a more serious split tooth. If cracks extend into the root, root canal treatment and a full coverage crown may be needed to restore function to the tooth. Split teeth may require extraction.
Dislodged Teeth
During an injury, a tooth may be pushed sideways out of or into its socket. Dr. Ahuja will reposition and stabilize your tooth. If the tooth root has been damaged, a root canal may also be necessary.
Knocked-Out Teeth
If a tooth is completely knocked out of your mouth, time is of the essence. The tooth should be handled very gently, avoiding touching the root surface itself. If it is dirty, quickly and gently rinse it in water. Do not use soap or any other cleaning agent, and never scrape or brush the tooth. If possible, the tooth should be placed back into its socket as soon as possible. The less time the tooth is out of its socket, the better the chance for saving it.
Once the tooth has been put back in its socket, Dr. Ahuja will evaluate it and will check for any other dental or facial injuries. If the tooth has not been placed back into its socket, Dr. Ahuja will clean it carefully and replace it. A stabilizing splint will be placed for a few weeks. Depending on the stage of root development, Dr. Ahuja may start root canal treatment a week or two later.
Want to learn more about emergency dental appointments from AC Dental?
Call our East Brunswick, NJ office at (732) 254-9000 to book an appointment today.